Mauro Petrarca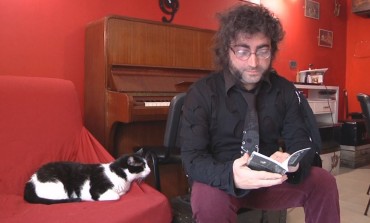 Composer of music and lyrics. In 2008 he participated, as Cemetery Poet, the talent show X Factor and the television broadcast Scorie, both programs of RAI DUE, proposing their own ballads and lyrics. From 2008 to 2010 he wrote and recited lyrics for the Radio2rai program, Le colonne d'Ercole. From 2006 to 2008 he composed and performed lyrics in music for the Melog section of Radio24 Il Sole 24 ore, conducted by Gianluca Nicoletti. He has also participated in programs of Radio Deejay, Radio Svizzera Italiana, Radio Popolare and television programs of La3 and Rossoalicetv. National and regional newspapers have given space to the presentation of his character and his works. La ballata Marta la Cornacchia has been included in a Sony-Bmg compilation, Grooves. He posed for the Cofani Funebri 2010 Posa in pace calendar.
He composed soundtracks for short films and documentaries including Roma fantastica, directed by Luigi Cozzi, 2010.
He released the CD Canzoniere Crepuscolare, produced for the label Fermentivivi (Edel release, 2009).