Donato Zoppo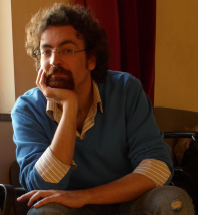 Donato Zoppo (Salerno, 1975), journalist, writer and radio host, lives and operates in Benevento.
He writes for the magazine rock Jam and for the monthly L'Idea and Totemblueart. He is one of the founders of the webmagazine MovimentiProg and in 2011 opened BattistiNews.
He is author of the blog Chi va con lo Zoppo… ascolta buona musica.
He is the author of many books, for Aereostella wrote Amore, libertà e censura. Il 1971 di Lucio Battisti (2011), awarded with the plate Note di Carta; Cotto e suonato. La musica immaginifica in cucina (2011); Questo piccolo grande viaggiatore. Claudio Baglioni in 100 pagine (2012).
Since 2007 he has been hosting Rock City Nights, which is broadcast on Radio Città BN. He is the founder of the press office Synpress 44.
Info: www.donatozoppo.it
Published books:
Libri Pubblicati:
14-04-2016 – Caution Radiation Area, alle fonti della musica radioattiva
31-05-2012 – Questo piccolo grande viaggiatore. Claudio Baglioni in 100 pagine
28-04-2011 – Amore, libertà e censura. Il 1971 di Lucio Battisti
Questo articolo è disponibile anche in: